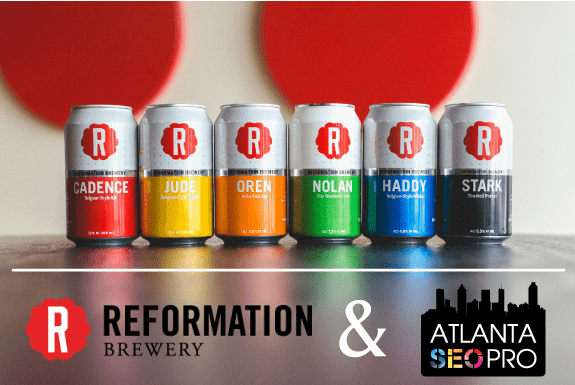 We don't normally write about our clients, but for us, Reformation Brewery is one of those special clients tied to a special moment.
I moved to Woodstock ten years ago, right before the explosive growth of the downtown area, and the subsequent explosive growth of Reformation Brewery. I've enjoyed watching them as they continue to expand and create new products to pair with their customers' most important moments.
I still remember visiting Reformation Brewery for the first time. I was with my husband Oscar and our extended family, and at the news that Woodstock had a brewery close by, we decided to give it a try. I remember thinking, "Finally, Woodstock has a brewery!" And not just any brewery, but a brewery with good beer and good stories.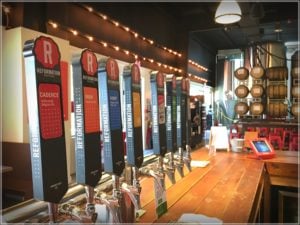 Fast-forward about four years, and Reformation is growing and expanding into a second location right in downtown Woodstock at a time where Woodstock is thriving. The current space will remain a brewery, but the new location will be the gathering spot, the place to create and savor moments. Of their second location, Reformation writes:
"We are really excited to activate the Market & Elm district of Woodstock. Main Street Woodstock has long held the public's attention, but Woodstock's Backyard is a wonderful spot to hang out. Being across from Elm Street Cultural Arts Village & Stage will generate a lot of partnership opportunities. The walking & biking trailhead for miles of paved trails is at the corner of our location and we look forward to working with our neighboring businesses to engage the public in unique ways."
There's always something happening in our city unexpected, and I believe Reformation has played a key role in that growth. (Shameless plug: Woodstock has been voted one of the top 50 places to live in the US!) Collaborating with initiatives from the downtown Woodstock organizations, Reformation has helped bring new life to Woodstock with their introduction of a new gathering spot for people to come and enjoy good company and good beer.
Reformation is more than just what you drink, though–they want to be part of the moments–of your moments, of my moments. For them, there's more to the moment than the beer in your hand. What's in your glass matters, but who's holding it matters more.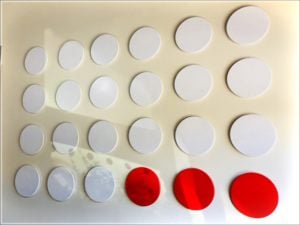 Becoming Part of the Story
As a granddaughter of an English teacher and writer, stories are profoundly important to me, and over the last few years, I've felt a connection to Reformation and their stories.
At my first meeting with Reformation's marketing staff, I discovered the connection I felt is part of what differentiates them from other Georgia breweries. They seek to share stories: stories to be known, valued and accepted, stories that break down isolation and loneliness. Reformation, I discovered, will always seek the story in customers' lives, and how they can help celebrate those moments within the stories.
In fact, the dots on the wall in the foundry represent stories and moments. Once you start looking, the dots are everywhere—on the website, t-shirts, glasses—and pose as a simple reminder to savor the moments. The white dots are past moments; moments to remember, savor, and think fondly upon. The red dots are moments that haven't happened yet.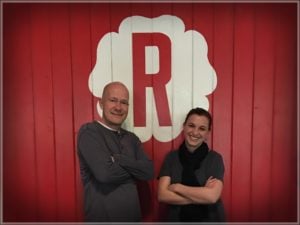 Putting it All Together
Having the opportunity to help Reformation gain clearer insight on reaching people with their stories and products is one of those moments that, for me, is one of those dots. It marks a special moment, one where I'm proud to work alongside a local business whose values match my own.
Now, as we start our journey with Reformation, we look forward to helping them create more moments that haven't happened yet.