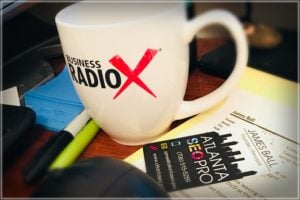 Lee Kantor of Atlanta Business Radio reached out to us and offered to have us on the show at 10am on Monday, May 14th. We gladly accepted! This will not be my first time on Atlanta Business Radio, I have been interviewed  several times over the years by different hosts and it has always been a great experience!
Business RadioX ® Hosts Lee Kantor and Stone Payton interview business owners and entrepreneurs from metro Atlanta's leading companies.
Atlanta SEO Pro, LLC is essentially a new Atlanta SEO Company and we are thrilled to have this opportunity to let more people know who we are as a business and how we do things a little differently than some other local SEO companies.
I will talk about what it takes to build and scale a "counter-cultural" digital marketing agency
I will explain a little more about what it means for us to be the "professional nemesis of any who would profit by any business model that exploits a client's fear and ignorance."
I will also explain our "unapologetically championing what is possible on the web without selling you a bill of goods" philosophy.
If you're interested and you want to hear more, mark your calendar and listen LIVE on Monday, May 14th!
Here Is The Recording – Listen Now!