Twitter Infographic
Last week Twitter had its "Chirp" conference for developers. Much of what I watched as it was streamed live was above my understanding, I'm no developer! I did learn a great deal about where it is that they are headed as a company and some of their plans for the future though. I think the most stunning bit for me was when Twitter revealed the actual number of its registered users at 105 Million!
Everybody loves infographics, I believe they do anyway, so I wanted to share this new one that highlights some new and current stats from Twitter. Staggering numbers, to be sure…and growing! Thanks to G_Obieta for permission to share it here.  Click on the image to view full size.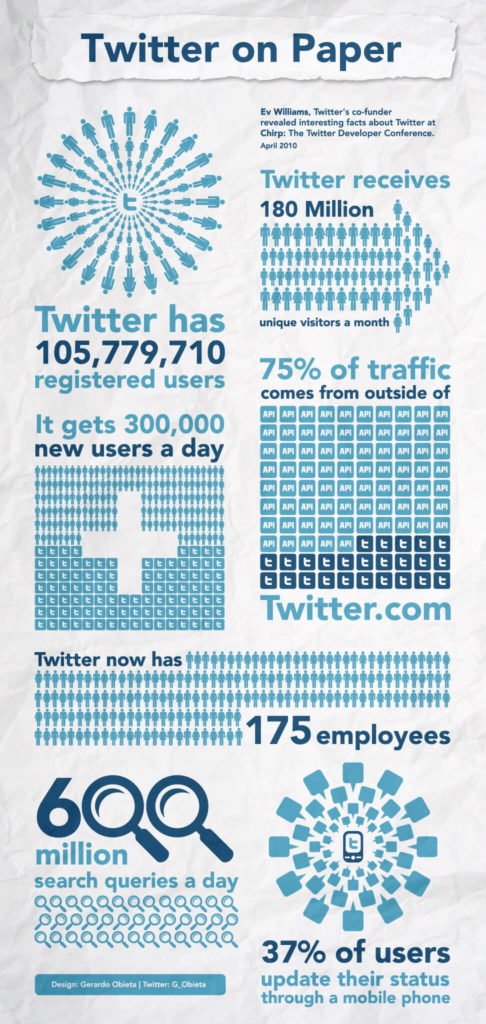 2010 Social Media Marketing Industry Report
Released just yesterday, this report addresses many of the questions and concerns that businesses are faced with as we begin to implement and/or adjust to social media marketing practices. This report is skillfully crafted and includes the data, graphs, and answers that you've always wanted to know about but didn't know who to ask! Watch the quick video summary, and click on the cover image to download the report. Brought to you by Social Media Examiner

I'm In a Boat
Foursquare day was just a few days ago, and Joe Sorge from AJ Bombers had a plan that yielded his restaurant's best day ever for sales. I love where I see Foursquare headed as a tool for businesses. Time and time again I see and hear stories of the actual foot traffic generated from the use of Foursquare coupled with a creative plan.
While this video highlights one tool and a specific event, I think the most important takeaway is to understand that AJ Bombers is very active across multiple social channels. These channels are best used when used together. AJ Bombers built up the event using different channels and by addressing different audiences. I know that for me, my Facebook fans are a completely different crowd than my Twitter followers…and yet I can see all of these interested in an event or a campaign if I take the time to build it to address who and where they are.
AJ Bombers will reap the benefits of this campaign for quite some time because Joe planned it that way. The videos and pictures from the event will spread out across YouTube, Facebook, and other places. Many people outside of the loyal Foursquare user will learn about AJ Bombers, and many will venture in for a bite and some unique atmosphere.
I hope you found some information and inspiration today that you can take with where you're headed!