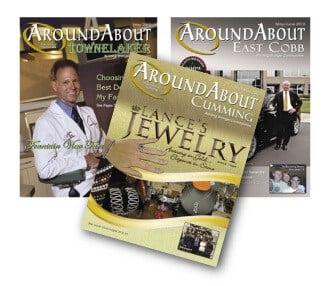 New gig for me…new case study for you:  this one starts at the beginning, and it starts today. As of yesterday, I am now the Digital Marketing Director for AroundAbout Community Magazines (ACM) in Woodstock, GA. An established company, ACM provides a quality printed product to the 8 communities that currently have titles.
The leadership at ACM is very interested in expanding and improving their online presence and establishing a strong presence across social channels as well. I am honored to be a part of the team there as the person chosen to implement and oversee this objective.
Frequently, and as recently as yesterday on Social Media Edge Radio (I enter at the 30 min. mark), I am asked about starting from scratch. Many people who are interested in social media marketing for their business want to know the first steps that need to be taken and the best practices involved as they get started. For those of you who have asked and are tasked with a similar undertaking, this is where you come in. I invite you to keep an eye on us as we take the first steps. Today is square one for us; I sincerely hope to offer sound insight and guidance along the way for all who care to follow along with us on this journey.
My first steps will include a re-design of the ACM web presence. This will include the individual title sites. My goal is to present a dynamic, socially integrated, and engaging web presence to support and highlight our printed product. The overall scope of the tasks ahead of us is large and far reaching. For all intents and purposes we are starting from scratch.
Nothing will change here at all. The only difference will be that I will interject and highlight as much of this new journey as is relevant from time to time along the way. I will be closer to the Atlanta area on a daily basis, and so hope to see many of you around town more often. In fact, come join me at Social Media Breakfast Atlanta next Thursday if you're able.
Now you know what's going on with me. I appreciate you being here, and I wanted to keep you in the loop. I am grateful for you and humbled by your readership. Please feel free to reach out to me anytime if there's ever something that I can help you with. Lend me your voice in the comments whenever you have the time and feel inclined; it truly helps me to shape this blog into what it needs to be.