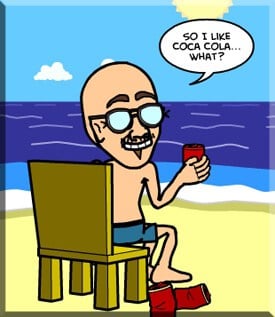 Sing it with me: "I'd like to buy the world a home and furnish it with love, Grow apple trees and honey bees, and snow white turtle doves.
I'd like to teach the world to sing in perfect harmony,
I'd like to buy the world a Coke and keep it company.
(Repeat the last two lines, and in the background)
It's the real thing, Coke is what the world wants today." – The Coca-Cola Company – 1971, One of the best commercials of all time.
How The Coca-Cola Company is using social media, and how it applies to you.
This is NOT just another look at how big brands are handling social media and being hugely successful. The information here today is both scalable, (scales DOWN to fit our sized businesses) and very actionable for anyone that cares to make use of it.
 Take just a few minutes and have a look at the presentations below. Then, I'd like to point out a few things that really stood out for me as I viewed them.
"Being a Fan, Friend or Follower does not mean that they opted in to have advertising blasted at them" – The Coca-Cola Company
Presentations and slides are always best viewed in "Full" mode.
"We are fortunate, we are blessed to have a lot of people talking about us…a lot of people who are very passionate about Coca-Cola…" – Adam Brown Director, Digital Communications @ Coca-Cola
The transparency in the presentations and video stood out to me. Both the outlined strategy and the presentations themselves are so simple, so succinct, that one might discern that the insight and leadership that shine through were a part of the master plan.
What Coke offers through their social media efforts is real empowerment and guidance for their consumer fan base, online advocates, and to the entire business community. Are we being as helpful to the communities that we are building? Adding value to this space is paramount to being received well, no doubt about it.
I also found wisdom in Coca-Cola's online social media principles. The language used speaks volumes.
While Coca-Cola may have a much larger budget and more resources than the average small business, the challenges that they face in social spaces are the same that you and I deal with. What I find interesting is that the solutions that have been so successful for Coca-Cola are relatively inexpensive and so brilliantly simple.
Some of the best minds and research that money can buy have produced campaigns that allow us to upload a picture of our next Coke. We're invited in to help create a flavor and design a label. Creating compelling content is a collaborative effort here. I hope that you find inspiration and as many golden nuggets in the "fans first" presentation as I have.
Social media isn't brand new anymore. Leadership is everywhere…we don't have to re-invent the wheel if we don't want to. If it's enough for The Coca-Cola Company to be simple, transparent, engaging, and passionate about their online community, it ought to suffice for us! Let me know if you agree, leave a comment and tell me your thoughts.
Disclosure: I have not received any compensation for writing this content and I have no material connection to the brands, topics and/or products that are mentioned herein.