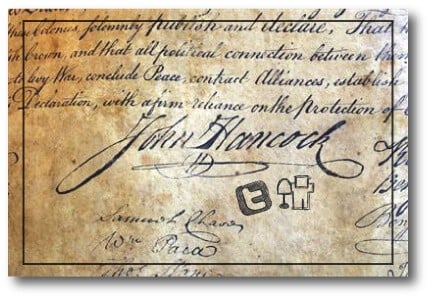 If you aren't using social media icons and/or links in EVERYTHING that you put out on a regular basis, such as email and newsletters…well, you just ought to be, that's all. These "social stamps" belong everywhere; they're not just for websites and blogs.
Email isn't going anywhere, and as a primary method of business communications, email should be a part of your social media strategy. If your desire is to connect with clients, vendors, and friends of your business through social channels, then you need to be ADVERTISING the fact that you yourself are present and active in these social spaces.
My business has a meaningful relationship with my email account; I correspond almost exclusively through email with clients and important contacts. The people that I do business with are certainly the type of "friends" that I want following me around on the social web, and vice versa. But they first need to know that I am there!
Think about it, my important contacts fit into one or both of these groups: People that pay my bills, or people whose bills I pay. These relationships are also valuable beyond the bottom line. My clients are already advocates for me to some degree. I am certainly happy with the people who send me invoices too, or we wouldn't be doing business at all. Why not partner up on Twitter, Facebook, and across the rest of the social web in order to help one another out?
"There was a time when an email signature served as a type of electronic business card. It was even laid out that way at the end of the email. It contained the name of the individual who sent the email, their title, the web address to their business, their email address, physical address, and contact phone number. In other words, it contained every method available to contact that person… Now we have social media…" – WiseStamp
I neglected adding icons and links to my signature for the longest time. I always meant to get around to it, but it seemed difficult somehow, so I put it off. This is NOT hard to do, and if you haven't "socialized" your email signature already, go ahead and dive in today…one less thing on your to-do list!
Here are some great resources to help you out:
Got any nifty email signature tricks or tutorials you'd like to share? Leave me a comment; I'd love to know how others are using and improving email signatures.