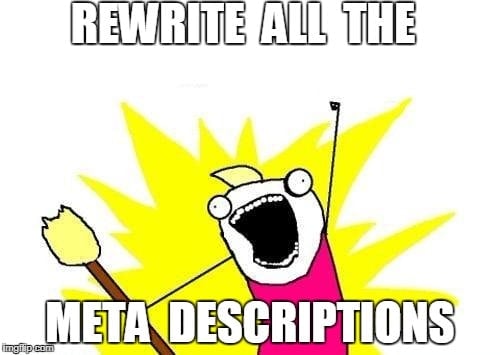 I am not attempting to be a trend-setter or follow any new "best practices" here today for myself…but I will tell you that today is the first time here or anywhere I have written a meta description 320 characters long. You can take that for what it's worth, but know that this is more of a personal experiment than anything at this point. I will make reference to it, so here is today's meta description for this post:
"2018 SEO Update – It's official, Google confirms that the new meta description character length is 320 characters. Expert opinions and collective data have shown that Google has been experimenting with longer SERP snippets over the past 2 1/2 years. Today I discuss writing better meta descriptions at the longer length."
CONFIRMED: Google, in a message to Search Engine Land confirms that "We recently made a change to provide more descriptive and useful snippets…This resulted in snippets becoming slightly longer, on average." Slightly longer Google, really? 320 characters is DOUBLE the 160 we've all been using for quite some time now. Also, could this statement be any more vague?
On the one hand, it is rare for Google to actually confirm outright any changes that they make to any part of their practices, algorithms, or pretty much anything else that they do. On the other hand, it's a rare nicety to have a concrete statement from the search giant. As for an "official" recommendation from Google on how we are all supposed to adapt to this lengthening of the snippets the world sees in SERPs…for this we will simply have to wait.
Search Engine Roundtable has written a nice post on the topic, and there is more corroboration and a discussion on Twitter that you may want to have a look at. The appearance of longer snippets is seemingly a more "dynamic process" than a set standard and this should be understood at this early point in the game. This means that there is no definitive reason or rhyme for rewriting all of your old meta descriptions. Going forward though, I for one will be using longer meta descriptions (like today) when it is prudent to do so and with the hope for better ranking in the SERPs.
[Tweet "#notredundant – How long should your meta description be now that Google allows 320 characters? http://bit.ly/2BZ0eTV"]
Go ahead and Tweet that, but let's think about this for a second. Google's "dynamic process" is extracting snippets from the content on your site that's most relevant (according to their algorithm) to the searcher's query. Sometimes they are pulling the available meta description only, sometimes they truncate and/or pull from the page's content, sometimes there seems to be a blend happening. One thing is for sure, they are showing snippets that are up to 320 characters long, but nobody writes their meta descriptions at that length.
Here's my bottom-line gut feeling about all of this and my advice on how to proceed:
Don't go back and rewrite all of your old meta descriptions. Google is already displaying longer snippets from your old content if you are ranking and showing up in SERPs. So in this new "dynamic process", you are already winning and there is no need for action on your part.
Do write longer meta descriptions if there is a need to. I don't want you to think that this is an opportunity to stuff more keywords into your descriptions though. Google is smarter than that. But if a longer description can offer more relevant information and better describe what your page/post/product is about, then type away! Don't give it all away in the description and make sure that you word your description in a way that will compel or encourage searchers to click through to your site.
Write better content. This almost goes without saying if you are aware of Google's algorithm updates (< you might want to print this resource) and you now understand that their longer SERP snippets are likely to pull from your page's content.
I will be studying and watching closely in the coming weeks and months. I will update this post with any new information and recommendations as they become available.
UPDATE 12/28/17:
Well, I just did a search for "Google allows 320 character meta descriptions" and this post showed up in the third spot. Not bad for only 18 hours after posting! My meta description (shown at the top of this post) is NOT what they decided to show in the snippet at all, See screen-grab below. Looks like the "dynamic process" decided to pull 299 characters from my first paragraph of copy instead. Just an observation at this point but I wanted to share.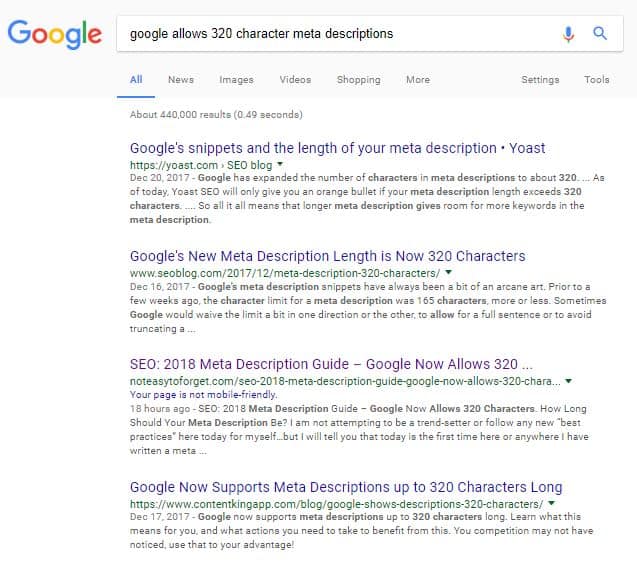 UPDATE 1/4/18:
Now I am in the number 8 spot on page one and they ARE using my meta description as written in the snippet:

So it would seem that this dynamic process is extremely dynamic and that once Google pulls a snippet, be it from the page's content or the actual meta description that you write…what they decide to use and display can change over time and/or according to factors that are not clear at this point.
So that's it, there you have all the news you need about this update…or rather "confirmation" from Google about longer SERP snippets and meta descriptions. I hope you found some value here today!