Social Media #Fail
 I think I've learned more about social media strategy from paying attention to the failures of others than I have from any great successes that I've managed on my own. In that spirit, I'd like to direct your attention to the presentation below. Social Media Influence takes us all the way back to 2004 with this one! Pay close attention to the grey and red highlighted text at the bottom of the slides (click "menu" at bottom left for Fullscreen option): 
"Given the explosion in social media participation, it's not surprising to see a steady year-on-year increase in social media screw ups – but while 2006 saw 7 major incidents, the 10 recorded so far this year suggests that corporate communicators and marketers are becoming more savvy in how they engage and look after their online reputation." – Social Media Influence
Social Media Villains
When I first saw this last week, I brushed it off as merely "cute"…then, upon second glance I noticed the "defense" bubble beneath each type of villain. I'm now a fan of this particular infographic from Search Engine Journal. There is wisdom here, and the original post that the infographic is based on is also worth a look!

What's It All Mean?
Whether you're an individual or a representative of a business, you're going to run into difficult people and precarious situations while engaged in the use of social media channels. Be prepared for the times when things don't go the way you planned. We're all going to run into unpleasant people and comments, and we're all going to suffer some failures as payment for our efforts and best intentions.
I created an engagement and response chart for my coworkers at AroundAbout Community Magazines based on the Web Posting Response Assessment developed by the Air Force public affairs agency. Click on the image below to open the full sized version. Feel free to print and use it for yourself. (large file, 14 MB, it's a raw pdf. Perhaps you can modify and/or re-design this to fit your needs or company brand)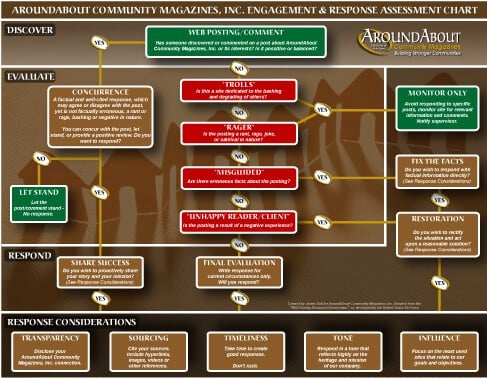 Have you encountered any of these villains? Have you suffered through and learned from any mistakes while engaged in the use of social channels for your business? Share these in the comments today if you will. We're all anxious to learn!