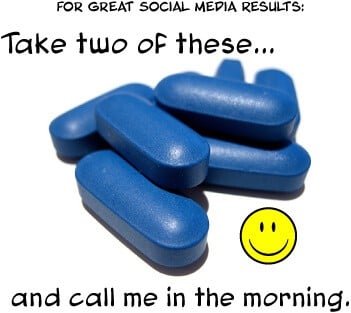 Sadly, it's going to take many years before there's anything close to a cure-all for your social media ailments. Even then, following prescribed best practices will be no guarantee that you will have successful results. Those professionals that remain true to their oath will only be able to offer diagnostics and a prognosis based on what the past has revealed. There is no little blue pill that'll fix it all.
More often than not, when I investigate what might be wrong in a particular instance, it's rarely a flaw in strategy or broken tactics. The problem is typically user generated, psychosomatic if you will. Impatience, desperation, frustration, and boredom are often the symptoms that drive people to seek help. Professional help is not always what's called for. Over the counter remedies are quite effective and usually do the trick.
As with anything, you have options. Get a second professional's opinion, consult the guru on the mount if it makes you feel any better…but know this; you may respond better to one prescribed remedy over another, what you resolve to stick with is your decision. Only you will know what "feels" right. It may take quite a bit of trial-and-error before you find a solution for your problem. Persevere, and in the end you'll come out of this alright.
Not sticking with something for long enough to give it a fair chance is not a viable path to success. Not only will you have thrown out a potential cure before it's had time to be effective, now you're biased against it. Going forward, you'll likely repeat the cycle until there's nothing left for you to try. Implement and utilize social media tools and tactics based on a well thought out strategy, and have good metrics in place for measuring progress – this is excellent preventative medicine.
Until a cure is found, I can offer you some home remedies that have worked for me and others in the past. Feel free to mix and match these as you see fit – there are no know interaction precautions.
Take two of these and call me in the morning:
Spend some time looking into how you could improve your presence and engagement on Facebook. Join 2 groups related to your industry, and then join 2 more outside of what's comfortable. Watch and learn from those who are using Facebook effectively and growing their business.
Take a closer look at your 2 newest followers on Twitter. Follow them around and see what they are into, open the lines of communication. If appropriate, lead and guide…take the role of teacher. You may be surprised what you learn from yourself!
Ask 2 friends how you might incorporate video into your marketing efforts.
Make 2 videos, see how they come out. What you see and learn might enlighten you!
That Smartphone, with all the cool social apps you've downloaded…use it exclusively to access/update/search/monitor all of the social sites that you frequent for the next 2 days.
Find 2 networking events with a social media theme, like a tweetup or a seminar, and attend!
Q & A on LinkedIn, Ask 2 questions and answer 2…for 2 days.
Pick 2 social sites that you don't fully understand and do 2 evenings of research.
These are just a few ideas. If you've ever felt like you were in a slump with your social media efforts, and you found a cure for it, please share some ideas here today in the comment section. We all have those days, and we need all the help we can get!