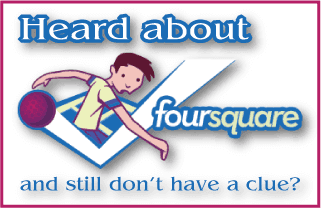 You've heard of Foursquare and other location based services such as Gowalla, Brightkite, Loopt, Whrrl, and Lunch, and you've likely already decided to either participate or ignore them completely. From a business point of view, I think that we all need to be watching closely and pro-actively participating as we follow the evolution of these services and apps. If you are one who has avoided location based services because you don't understand them, this post is for you.
I'm going to stick to Foursquare in this post. I think that having a fair understanding of one location based service can pretty well open one's eyes to the general ideas and concepts that are driving the trend. Check out the following resources, I'll continue with a few more thoughts after that.
"Hi! We're part friend-finder, part social cityguide, part nightlife game. We wanted to build something that not only helps you keep up with your friends, but exposes you to new things in and challenges you to explore cities in different ways. There's a lot of experimenting here, so bear with us as we try to figure it all out (and thanks!)" -From the Foursquare Facebook Page
The new, and "official" Foursquare video:
"Foursquare, the hottest Social Network on the web turned one yesterday. Hard to believe that it's been around for just 365 days and still boasts of half a million users, 1.4 million venues, 15.5 million check-ins and is growing exponentially by the day if not by the hour!" – Thoughts on Social CRM and Analytics March 12th, 2010
Business owners – Consider getting involved with location based services and apps sooner rather than later. Perhaps you can see the reasoning and potential value already, but are just a little confused on how and where to begin…I hope that now, after this post, that you'll head out and sign up somewhere! If you are still a bit lost as to how and why this is important to you, let me point out a few more things that might shed some light:
Acclimating yourself to using location based apps and services that use your handheld Smartphone or devices GPS capability is merely keeping current. In my mind, as a business owner, participation is mandatory. You'll need to actually have a better than average understanding of how others are making use of this technology to stay involved and ahead of the curve on the social web. Consider re-thinking your stand if you don't foresee location based advertising and marketing becoming more prevalent for us all in the near future, business owners and consumers alike.
Integrating your location based apps with your Twitter and Facebook updates can give your online presence some much needed "personal" flair. Allowing those that follow you a window into some of your activities that are NOT business related can help to align yourself with your followers interests and commonality…it adds a very "human" element. I feel that this is true for both B2C and B2B companies. This question on LinkedIn the other day caught my attention: "How do you all see Foursquare being utilized in the B2B space?" My reply: "Foursquare is a game, as others here have said…still, it is social networking. If it's a social network, then it becomes a venue for social media marketing. B2B success leans heavily on relationships among decision makers…so I'd suggest that any relationship via social networking that can help deepen a relationship is a good thing. Following along on Foursquare with others does provide some insight to the interests, activities, and travels of others. It's a touch point that can help to understand the personality and habits of those that you do business with, or are considering doing business with. There are good and bad implications that can be drawn from this…but such is life and business on the social web."
Every day businesses are figuring out new and different ways to generate foot traffic to their venues using location based services. This strikes me as important on a few different levels. Consumers

are

using the services to guide their purchases. Your competitors

are

thinking about ways that they might leverage location based marketing using services like Foursquare to market themselves. Can you afford not to be listed as a venue?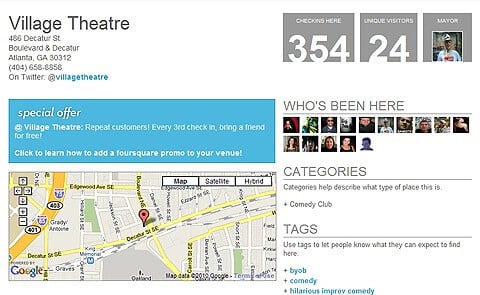 Bing has added "Foursquare everywhere" to their map feature. You can even "check in" on Yelp now. Twitter too has adopted opt-in location support to their service. Facebook may even be gearing up to add location based services and features. With so many interested in location as a feature, one could safely assume that location based services warrant careful investigation.
You're already there. Anyone can add your venue…it doesn't have to come from you. Check-ins, recommendations, and even complaints may already be happening without you. As with the rest of the social web, your lack of participation won't stop the conversations. Better to be a part of these conversations, always.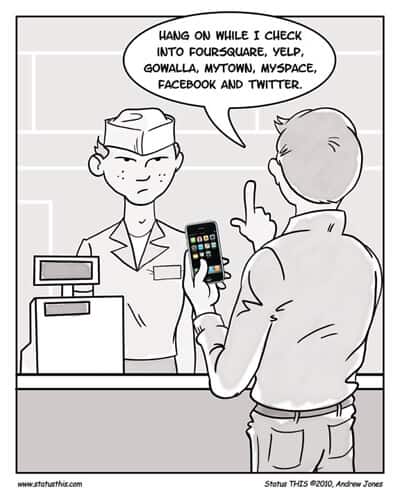 Comic via Andrew Jones at StatusThis.com
At first glance it's easy to see how nightclubs and restaurants are benefitting from Foursquare, don't let this dissuade you from getting involved if you are a retail establishment. At this stage in the game, no pun intended, creativity is all that is needed to capitalize on Foursquare and other location based services for your particular type of business, whatever it may be!
Do you already have strong feelings or thoughts about Foursquare and other location based services? I'd love to have your input in the comment section. If you have a Foursquare story or other resources that you want to share, I'd love to hear about these today as well. Comments are always welcome.
Disclosure:
I have not received any compensation for writing this content and I have no material connection to the brands, topics and/or products that are mentioned herein.