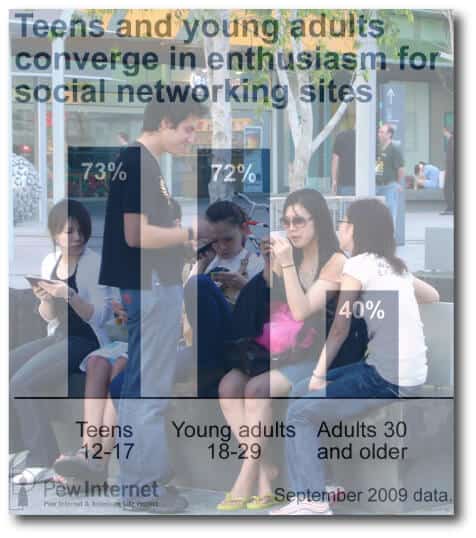 "..it's important to realize that most teens are engaging with social media without any deep understanding of the underlying dynamics or structure. Just because they understand how to use the technology doesn't mean that they understand the information ecology that surrounds it." – danah boyd
Teens and young adults are using social media, and marketers are interested in using social media to reach teens and young adults…either way you slice it, the future is what we're really talking about; the future of our businesses, the future of the internet, and the future of the planet.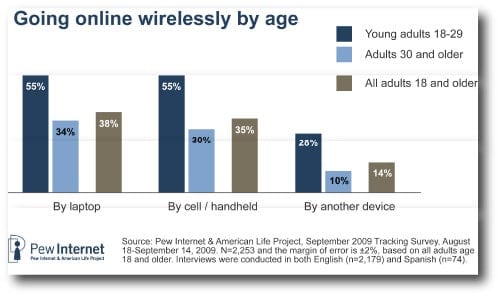 I would like to be up front in giving credit to the young lady who inspired this post. Thank you MP, you know who you are! MP is the teenage daughter of one of my clients. I was asked if she might sit in on our meetings due to her working knowledge of Facebook where the boss-man had none. I liked the idea.
MP recently participated in an extracurricular event. She was assigned a project to build and market an imaginary company. MP pulled her marketing strategy and tactics from the information she'd gleaned in the meetings that she'd been privy to, and with this knowledge she floored the judges.
She is now moving on to the State level and has a real interest in pursuing a career in business with a tilt towards marketing. I'm pretty proud of her! This interaction forced me to consider my role and the things that I do that matter.
I can't imagine moving forward in a market increasingly affected by an audience not self aware of the impact that their use and adaptation has on the social landscape of the internet. Teaching companies how to use social media is only half of the story. End users from all demographics affect the evolution and future of social media and communications much more than the content creators and thought leaders of today.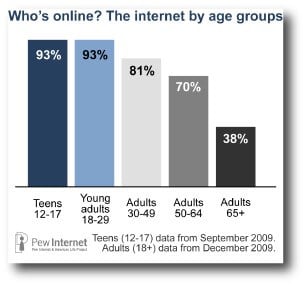 "Educators have a critical role when it comes to helping youth navigate social media. You can help them understand how to make sense of what they're seeing. We can call this "media literacy" or "digital literacy" or simply learning to live in a modern society. Youth need to know more than just how to use the tools – they need to understand the structures around them." – danah boyd
If the business and communications of tomorrow are to be a better environment for all involved, care should be taken to both instruct and learn from today's teenagers and young adults about their role in this evolving space. I can assure you that some of the smart-phones of today will migrate from the back pockets and backpacks where they reside into the brief cases of tomorrow.
If the topic of teens and young adults using social media interests you and you want to get involved, there are some excellent resources available. To get started I would suggest that you download the report "Social Media and Young Adults" from Pew Internet. I highly recommend that you look deeply into the publications and blog of danah boyd. danah also recently helped co-author the book: Hanging Out, Messing Around, and Geeking Out: Kids Living and Learning with New Media. You can ask her on Twitter why she doesn't capitalize her name; I'm simply following her lead on that.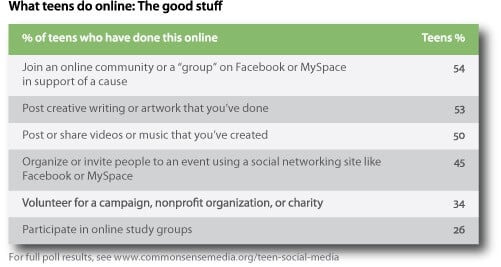 Why am I telling you all of this? Because if you're here reading this you are likely a social media worker, a small business owner, or a person to whom social media and small business matters. More than half of you are parents; some of you have teens at home.  This, to me, means that you have a responsibility to educate and pass on what you know to the next generation.
The opportunities are there, you'll just have to be intentional and pro-active to fit yourself in. Maybe it's talking with your own children. Have you or your company considered an intern? Maybe you could host or join a talk down at the local high school. Perhaps you could teach the FFA to tweet! It is my hope that the topic today opens your eyes to the young people and opportunities to teach as you walk through your day.
"Needless to say, youth are leveraging social media to share with their friends and peers. Now, most of what they share might be pure gossip, but teens also share links, references, ideas, and original content." – danah boyd
Don't underestimate the potential for personal learning made possible by assuming the role of teacher. It's important that we all understand social media and its cultural impact from both sides of the fence. This is an open challenge that I hope many of you will rise to meet. Please share this post among others who are in a position to make a difference. I would very much like to hear your thoughts and reactions to the post today, please do leave a comment.