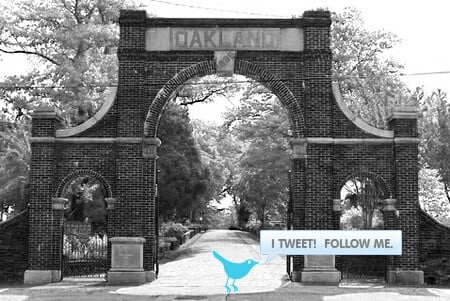 The writing may not bear any resemblance to Margaret Mitchell's "Gone with the Wind", but there is some common ground here, quite literally. The writing is in the form of 140 character "tweets" posted to Twitter.com from the Oakland Cemetery account, and Margaret Mitchell is in fact buried there.
Meet what may possibly be the world's most engaged and active cemetery on the social web: Oakland Cemetery in Atlanta, Georgia. I was very intrigued when I discovered the cemetery on Twitter, and I've been along for the ride ever since. What began as a curious interest has become a pretty amazing success story.
Oakland Cemetery is one of my personal all-time favorite historical attractions in Atlanta, and the fact that they are so active on the social web excites me! The cemetery has a vibrant Facebook fan base and an active Flickr presence as well. I couldn't help but notice that there was a well thought out strategy in place here. I'm excited to be sharing this story with you today.

Social media has given Oakland Cemetery a voice and a personality.
"I have my own philosophies around how businesses should engage (in social media), and I apply these to my own interactions while representing the Oakland Cemetery name. As with all entities, it is about finding your voice and creating a personality for something that doesn't have one." – Chad Elkins
The cemetery has Chad Elkins to thank for its social media success; he is the living soul behind the tweets and social media strategy. Mr. Elkins is a volunteer at Oakland Cemetery, and he is leading the social media initiative. It's evident to me that he has more than just a clue about marketing and social media. It sounds a little strange to say it, but Chad is the community manager for the cemetery.
"Initially, it may seem odd for a cemetery to be involved in social media, but Oakland is just as much a part of the Atlanta attraction market as other venues. It is not only a city park, but also an important landmark rich with history." – Chad Elkins
Chad fully understands the challenges that many nonprofit organizations face. Oakland Cemetery is dependent on the donations and volunteer efforts of its supporters for the needed upkeep and restoration efforts for history's sake. Chad recognized social media for its potential to raise awareness and rally support for Oakland Cemetery. I am happy to relay that social media has had a positive impact on the cemetery, it's working!
The cemetery's social media strategy is well aligned with the mission it supports.
"The mission of the Historic Oakland Foundation, Inc. is to cultivate resources to assist the City of Atlanta in the preservation, restoration and beautification of historic Oakland Cemetery and to promote it as a local cultural resource and as a historic site of national importance.

As the guardians of Historic Oakland Cemetery, we want to engage as many people as possible in the protection and promotion of Atlanta's most tangible link to the past." – Historic Oakland Foundation
I've spent a few evenings talking with Chad about Oakland Cemetery and social media. It has been a pleasure to hear Chad talk about higher turnouts for the events that the cemetery hosts. Hearing that the interest in volunteerism is up is encouraging too! I've enjoyed my talks with Chad, and watching all of the creative ways that Chad has added value to this space has truly been an inspiration to me.   
"I don't see the Atlanta attractions and venues as competitors, but more as all a part of one cohesive ecosystem that must help and promote one another. As we each individually grow and succeed, then we all as a community and city reap the benefits.  This concept is why a very large portion of what I share on Twitter has nothing to do with Oakland at all and is geared around sharing other events around Atlanta that I feel our followers would be interested in seeing." – Chad Elkins
When I congratulated Chad on the increase that I've witnessed in the following and fans of Oakland Cemetery, I actually got the response that I expected: "I would rather Oakland have 100 followers who actively engage with me and who learn from one another than a hundred thousand people that I never hear from. This medium is not about just raw numbers." Chad also believes that "Non-profit organizations should engage and interact in social media outlets just like other businesses and people do." I couldn't agree more.
Oakland Cemetery is doing great work folks. I hate to state the obvious, but if a cemetery can be this engaged and have such a positive impact, there simply isn't much left by way of excuse for anyone not to put forth the effort. Take some time and scroll through Oakland Cemetery's tweets. Become a Facebook fan and enjoy the experience there. Head over to the Flickr group and enjoy the pictures of this incredible landmark. It won't take but a minute or two for you to discern that there is much that we can learn about social media from Chad Elkins and Oakland Cemetery.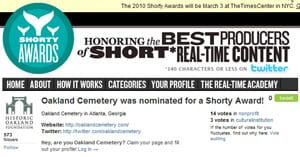 If this story has surprised, impressed, or amazed you please leave me a comment today. I learn much from you and I enjoy the conversation!
If you are so inspired, I'm sure that the foundation would be very grateful for your support as well.