**UPDATE: This event has been re-scheduled to Sept. 18th! Stay tuned for new RSVP links, information, etc.
If you're looking for some practical, actionable, and conversational insight and advice from social media professionals who work it everyday, then this is the event that you've been waiting for: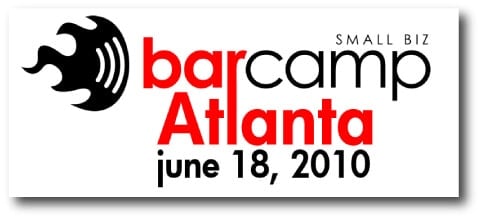 June 18th 2010 – 8AM to 4PM
Five Star World Conference Center – Towers at Wildwood
3200 Windy Hill Road
Atlanta, GA 30339
Located at the intersection of Windy Hill and Powers Ferry Roads in Marietta, Georgia.
The Atlanta Small Business (Biz) BarCamp follows closely the style of all Bar Camps in that it is an open forum for free engagement by all participants. The only structure to it is topical content, location and times.
Designed to share successes with new media, social media and other techno-centric issues within the small business community SBBC is for anyone who owns, operates or manages a business with anywhere from 1 to hundreds of employees.
The open forum format and round table discussions lead by industry afficinados as well as a reasonable mix of short presentations by local leaders gives everyone to have a voice and have their questions answered by others who have already experienced the challenges.
Topics will include information relevant to marketing, customer relations and brand development using many tools available today. Our hopes are to have user experts and developers who are proficient in Twitter, Facebook, LinkedIn, WordPress and other only social networks and Content Management Systems. 
We will be discussing Best Practice in theory and application and have live demonstrations when possible. 
The core attendees will also be presenting and includes (at this time):
Lane Bailey of http://lanebailey.com/ – who is a veteran photographer and real estate agent who has been very active in the new media arena for several years.
Lisa Oden of http://lisaoden.com/ who's prolific use of technology and social media makes her a prime suspect in success.
Taryn Pisaneschi of http://tarynp.com/ who's use of social media is almost as long as she is old. Her knowledge of social engagements for business purposes and he way of communicating it in a live setting is first class.
James Ball of http://noteasytoforget.com/ a very knowledgeable user and developer of technology and direct interaction for small business.

We still need people who are knowledgeable in mobile technology, branding technology and customer relationship management. Let us hear from you! http://smallbizbarcamp.com/speak/
Dining
We will break for one hour from 11:30 AM to 12:30 PM. There is a reasonable and tasty cafe in the facility as well as dozens of eateries in the area.
Accommodations
Hilton Garden Inn is walking distance from the venue.
3045 Windy Hill Road, Atlanta, Georgia, USA 3033
Phone: 1-770-953-8850  Fax: 1-770-953-88519 
---
Small Biz BarCamp Atlanta is the vision of Ken Cook of http://twitter.com/thekencook(and about a hundred blogs). Ken is currently the Social Outreach Director for AmericaHomeKey, Inc. (southeastern region) and SERM developer for Real Estate Client Referrals. Ken can be reached at 678-439-8683 or on Skype at thekencook or on TokBox at http://tokbox.com/kencook …you may also want to visit the Small Biz Barcamp Atlanta Website.